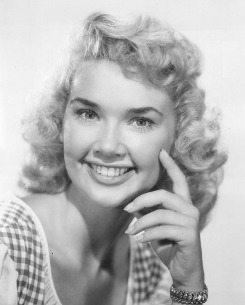 Yvonne Lime (Born April 1935) is an American actress who portrayed the Stewardess on the Taylors TWA flight to California in the episode The Taylors in Hollywood. Yvonne was also in several Gomer Pyle U.S.M.C episodes as well.
Mini Bio (courtesy of IMDB)
Edit
Yvonne Lime was the daughter of a music teacher who encouraged her to study acting. After attending the Pasadena Playhouse and acting in its production of "Ah, Wilderness!," Lime attracted the notice of an agent who landed her a recurring part on TV's Father Knows Best (1954). The blonde actress appeared in many television shows and movies of the era, including Elvis Presley's Loving You (1957) and AIP's I Was a Teenage Werewolf (1957) (co-starring as title character Michael Landon's girlfriend). She later married TV producer Don Fedderson (The Millionaire (1955), My Three Sons (1960), Family Affair (1966)) and retired from acting. According to Lime, one of the most important (and rewarding) parts of her life is her charity work: beginning in the 1950s, while entertaining U.S. troops in Japan, she and her actress-friend Sara O'Meara became concerned with the plight of orphans and took the first steps toward founding International Orphans Inc., an organization that built and maintained four orphanages in Japan, as well as five orphanages, a hospital and a school in Vietnam. Lime and O'Meara later redirected their efforts toward abused and neglected children in the U.S. and changed their organization's name to Childhelp USA.
External Link
Edit
Appearances
Edit
Season 6-
Ad blocker interference detected!
Wikia is a free-to-use site that makes money from advertising. We have a modified experience for viewers using ad blockers

Wikia is not accessible if you've made further modifications. Remove the custom ad blocker rule(s) and the page will load as expected.