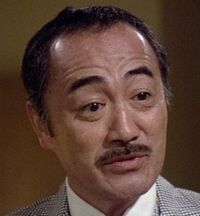 Yuki Shimoda (August 10, 1921 - May 21, 1981) appeared in episodes of The Andy Griffith Show and Gomer Pyle U.S.M.C. His film appearances include Auntie Mame, Don't Give Up the Ship, Career, All in a Night's Work, A Majority of One, Once a Thief, Midway, MacArthur and Disney's The Last Flight of Noah's Ark. He died in Los Angeles at the age of 59 in 1981.
Ad blocker interference detected!
Wikia is a free-to-use site that makes money from advertising. We have a modified experience for viewers using ad blockers

Wikia is not accessible if you've made further modifications. Remove the custom ad blocker rule(s) and the page will load as expected.