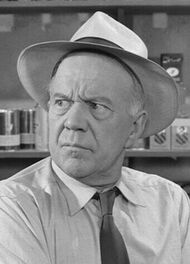 Willis Bouchey (May 24, 1907 - August 26, 1977) appeared in episodes of The Andy Griffith Show, Gomer Pyle U.S.M.C. and Mayberry R.F.D. He also played Mayor Terwilliger on "The Great Gildersleeve", Springer on "Pete and Gladys" and the Judge on "Perry Mason". His film career included appearances in Don't Bother to Knock, From Here to Eternity, Executive Suite, Them!, A Star Is Born, The Bridges at Toko-Ri, Pocketful of Miracles, The Man Who Shot Liberty Valance, How the West Was Won, Cheyenne Autumn, Where Love Has Gone, Disney's Follow Me Boys!, Dirty Dingus Magee and The Love God? starring Don Knotts.
Ad blocker interference detected!
Wikia is a free-to-use site that makes money from advertising. We have a modified experience for viewers using ad blockers

Wikia is not accessible if you've made further modifications. Remove the custom ad blocker rule(s) and the page will load as expected.