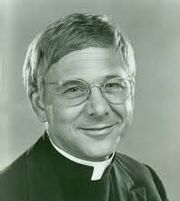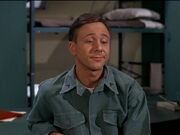 William Christopher
(born October 20, 1932, died December 31, 2016) appeared in two episodes of
The Andy Griffith Show
and played Private
Lester Hummel
on
Gomer Pyle U.S.M.C.
He is best remembered as playing Father Francis Mulcahy on
"M*A*S*H"
and its continuation, "After MASH". He also appeared in the films
The Fortune Cookie
,
The Perils of Pauline
,
The Private Navy of Sgt. O'Farrell
,
The Shakiest Gun in the West
(with
Don Knotts
),
With Six You Get Eggroll
(directed by
Howard Morris
) and
Hearts of the West
(with
Andy Griffith
).
Ad blocker interference detected!
Wikia is a free-to-use site that makes money from advertising. We have a modified experience for viewers using ad blockers

Wikia is not accessible if you've made further modifications. Remove the custom ad blocker rule(s) and the page will load as expected.