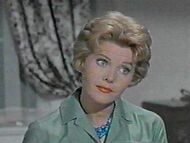 Whitney Blake (February 20, 1926 - September 28, 2002) appeared in one episode of The Andy Griffith Show. Her daughter is actress Meredith Baxter. She starred on "Hazel" as Dorothy Baxter. She and her husband Allan Manings created the TV series "One Day at a Time".
Ad blocker interference detected!
Wikia is a free-to-use site that makes money from advertising. We have a modified experience for viewers using ad blockers

Wikia is not accessible if you've made further modifications. Remove the custom ad blocker rule(s) and the page will load as expected.