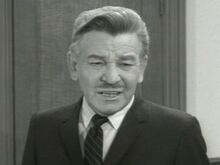 Warren Parker (February 25, 1904 - July 31, 1976) played the president of Mayberry Security Bank in episodes of The Andy Griffith Show. His film appearances include The Power of the Resurrection, Hoodlum Priest, Return to Peyton Place and The Pleasure Seekers.
Ad blocker interference detected!
Wikia is a free-to-use site that makes money from advertising. We have a modified experience for viewers using ad blockers

Wikia is not accessible if you've made further modifications. Remove the custom ad blocker rule(s) and the page will load as expected.