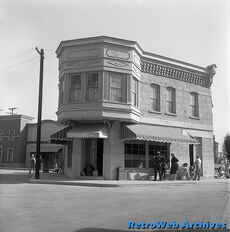 Walker's Drugstore is a two-story ornate structure on Main Street in Mayberry just across the street from the Mayberry Courthouse block including Floyd's Barbershop and Foley's Grocery and the Mayberry Town Hall. It is unrevealed as to that the second floor was used for, but the pharmacy and soda fountain on the first floor were Fred Walker (the owner) and his niece Ellie Walker. In later episodes, it's known as the Franklin Pharmacy, suggesting the Walkers have possibly sold the business, but this is unconfirmed.
Appearances
Edit
Drugstore Menu
Edit
Business Man Special: Hollowed out tomato stuffed with Avocado and raisin. Lemon phosphate.
Bacon & Eggs: 50 cents.
Image Gallery
Edit