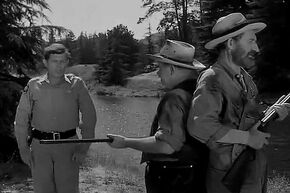 The mountain families of the Wakefields and the Carters, are two families who have always feuded.
The Wakefield-Carter Feud was feud that had gone on for over 87 years. The two families lived outside of Mayberry in the mountains. Neither family had no idea why each hated the other, but the feud continued decade after decade. It wasn't until Mr. Wakefield's son Josh and Mr. Carter's daughter Hannah wanted to get married, did the fighting flair up again. While Andy tried to help the kids find a way to marry, he began doing some investigating. It wasn't long before he found out the families had been feuding over nothing.
Andy confronted both Mr. Carter and Mr. Wakefield, trying to make them have a dual. Both scared of actually shooting however, the two men ran off. Andy later convinced the two that their grandchild would be quite the strong human, both having the genes of Wakefield and Carter in his/her blood. From that point on, not only did the men not have a problem with the kids getting married, they now insisted on it.
Wakefields
Edit
Four generations before Jedediah
Mrs. Wakefield (deceased)
Image Gallery
Edit
Ad blocker interference detected!
Wikia is a free-to-use site that makes money from advertising. We have a modified experience for viewers using ad blockers

Wikia is not accessible if you've made further modifications. Remove the custom ad blocker rule(s) and the page will load as expected.