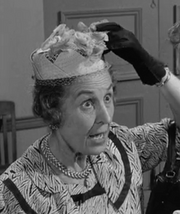 Virginia Sale was an American born character actress. Born in Urbana, Illinois on May 20th, 1899, she passed away August 23, 1992 (age 93).
Trivia/Notes
Edit
Performed over 3,000 performances in a nationwide tour of a one-woman comedy-drama act.
Hatchet-faced American character actress who played hundreds of minor parts on film, radio and TV over the years, mostly spinsters and other old crones.
Selected Filmography/Television
Edit
The Andy Griffith Show (1964 and 1966)
Moby Dick (1930)
Legionnaires in Paris (1929)
Legionnaires in Paris (1927)
See full list HERE.
Appearances
Edit
Season 4-
Season 6-
Ad blocker interference detected!
Wikia is a free-to-use site that makes money from advertising. We have a modified experience for viewers using ad blockers

Wikia is not accessible if you've made further modifications. Remove the custom ad blocker rule(s) and the page will load as expected.