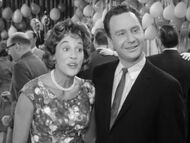 Virginia Eiler (December 1924-January 2004) was an American actress. She portrayed Ramona Wiley Becktoris in the Andy Griffith show episode Class Reunion.
Virginia Eiler was best known for Jana of the Jungle (1978), Ben Casey (1961) and Executive Suite (1954).
Outside reference from Virginia Eiler IMDB
Ad blocker interference detected!
Wikia is a free-to-use site that makes money from advertising. We have a modified experience for viewers using ad blockers

Wikia is not accessible if you've made further modifications. Remove the custom ad blocker rule(s) and the page will load as expected.