RIP Andy Griffith!
Andy passed away this morning July 3, 2012 in his home...he just turned 86.
One of America's most beloved men has now joined his best friend Don Knotts in heaven.
Let's remember Andy by you telling us your favorite Andy Taylor moment on the Andy Griffith Show.
You will be missed Andy!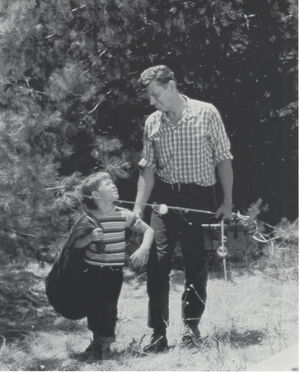 Remembering Andy
UPDATE:
Statement From Cindi Griffith:
"Andy was a person of incredibly strong Christian faith and was prepared for the day he would be called Home to his Lord. He is the love of my life, my constant companion, my partner, and my best friend. I cannot imagine life without Andy, but I take comfort and strength in God's Grace and in the knowledge that Andy is at peace and with God."
From Ron Howard's Twitter
"His pursuit of excellence and the joy he took in creating served generations & shaped my life I'm forever grateful RIP Andy."
Burial
Andy, according to family and friends has already been buried by his request.
MORE UPDATES TO COME AS MORE NEWS DEVELOPS.
Ad blocker interference detected!
Wikia is a free-to-use site that makes money from advertising. We have a modified experience for viewers using ad blockers

Wikia is not accessible if you've made further modifications. Remove the custom ad blocker rule(s) and the page will load as expected.