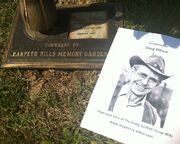 Last Saturday, my wife and I visited Doug Dillard's grave at Harpeth Hills Memory Gardens near Nashville, Tennessee. The cemetery has placed a temporary plaque at his grave, I assume until a more permanent one is placed by his next-of-kin. His date of death is correct (May 16, 2012), but he was born in 1937, not 1987 as it reads on the card. We were told by the very helpful staff at the office that Doug's wife Vikki Sallee Dillard had died last September and was buried next to him. Her grave currently has no marker. We would have stayed longer to sing a chorus of "Dooley", but we were chased away by a ferocious swarm of gnats. For more info, be sure to check out his findagrave memorial.
Ad blocker interference detected!
Wikia is a free-to-use site that makes money from advertising. We have a modified experience for viewers using ad blockers

Wikia is not accessible if you've made further modifications. Remove the custom ad blocker rule(s) and the page will load as expected.