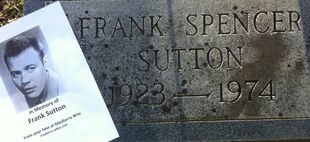 Today my wife Jennifer and I visited the grave of Frank Sutton at Greenwood Cemetery in his hometown of Clarksville, Tennessee. He is buried between his parents Frank and Thelma. He lost his father at the age of 14, served in the Army in the South Pacific during World War II, and graduated from Columbia University with a drama degree. He died more than 37 years ago while preparing for an appearance in a dinner theater in Shreveport, Louisiana.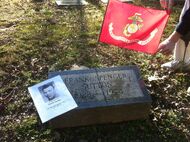 When we arrived we were surprised to find a United States Marine Corps flag planted at his grave. He ended up serving in the Army because he wasn't able to pass the Marine Corps physical during the War. However the flag serves as a great tribute to the enduring character of Sergeant Carter that he created.
Ad blocker interference detected!
Wikia is a free-to-use site that makes money from advertising. We have a modified experience for viewers using ad blockers

Wikia is not accessible if you've made further modifications. Remove the custom ad blocker rule(s) and the page will load as expected.