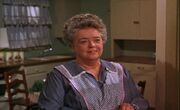 Original Airdate
January 1, 1968
Plot
Notes Aunt Bee realized in the episode "The Foster Lady" that being a celebrity would take too much of her time just from doing a single furniture polish commercial and turned it down, yet she agrees to be the star of an entire cooking show that runs all the time.
Cast
Crew
Ad blocker interference detected!
Wikia is a free-to-use site that makes money from advertising. We have a modified experience for viewers using ad blockers

Wikia is not accessible if you've made further modifications. Remove the custom ad blocker rule(s) and the page will load as expected.