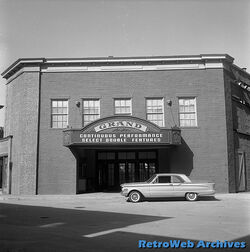 The Grand Theater is the local movie theater in Mayberry and one of the most popular social places in town. It's not known how large the interior is, but it does have a balcony and possibly seats no more than 250 patrons. Often called the "Mayberry Theater" as well, Opie Taylor and Gomer Pyle come here to see monster and science fiction movies and Andy and Barney bring Helen and Thelma Lou here to see actor-driven drama films. When the Grand Theater plays detective flicks, Barney is known to get stirred up and gung-ho in his police duties. The Grand has late shows on Saturday nights.
Coming Attractions to The Mayberry Grand
Edit
Orchestra - 35 cents
Balcony - 25 cents
Now Showing in Mt. Pilot
Edit
Raiders of Tripoli
La Vie de Femme
Now Showing in Raleigh
Edit
Bread, Love and Beans (risque- according to Barney)
Ad blocker interference detected!
Wikia is a free-to-use site that makes money from advertising. We have a modified experience for viewers using ad blockers

Wikia is not accessible if you've made further modifications. Remove the custom ad blocker rule(s) and the page will load as expected.