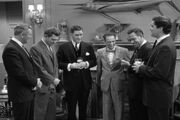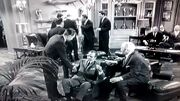 The Esquire Club was a ritzy club that was located in Raleigh. Andy was a fishing buddy Roger Courtney, a head member of the club. Roger asked Andy to come up and meet the rest of the members. Andy said that he wanted to bring Barney with him. Barney tried so hard to impress the committee, that he made himself look very unfavorable. In the end, the members voted to take only Andy as a new member, which he declined since Barney didn't make the cut.
Appearances
Edit
Season 2-
Ad blocker interference detected!
Wikia is a free-to-use site that makes money from advertising. We have a modified experience for viewers using ad blockers

Wikia is not accessible if you've made further modifications. Remove the custom ad blocker rule(s) and the page will load as expected.