Home
Talk

1
1,481pages on
this wiki
The Andy Griffith Show Wiki... an in-depth encyclopedic guide to the beloved CBS television series. We are a collaborative website about the small-town world of The Andy Griffith Show that first started to grow on September 30, 2008. The wiki format allows anyone to create or edit any article, so we can all work together to create the site. Now, take a stroll into Mayberry.
Featured Character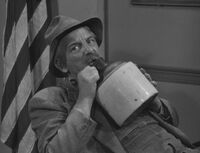 Briscoe Darling—
"Got time to breathe.. got time for music"- Brisco
Briscoe Darling is a jug-playing mountain man who visits the town of Mayberry with his family in six episodes of The Andy Griffith Show and in the TV movie Return to Mayberry. He is the father of four sons, The Darling Boys, who never speak unless they are singing in their family band, and of the very talkative Charlene Darling.
Read More...
Featured Episode
Barney and the Cave Rescue—
Barney and the Cave Rescue aired in Season 4 on January 6th, 1964. Andy and Helen wander into a cave while on the town picnic and are trapped when the entryway collapses behind them. Barney discovers what has happened and organizes a rescue party. Andy and Helen manage to find a safe exit through a hidden opening on the far end of the cave and catch a ride back to Helen's home. While there, the couple hear a special report on the radio about the accident. Andy and Helen dress back into their dirty clothes and go back to the cave. They climb back in so Barney can rescue them.
Read more...
Featured Prisoner or Criminal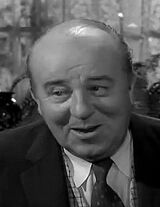 Oscar Fields—
"Oscar Fields" is an out-of-townee, who takes a room in Mrs. Mendelbright's apartments. Eventually, Barney and Andy figure out that Oscar is nothing but a con-man, wanted for bigamy, extortion and a slue of other crimes. His latest target was Mrs. Mendelbright, whom he was trying to steal money from. He goes as far as to ask her hand in marriage. She accepts his offer and per his request to get her savings from the bank, she obliges.
Read More...
Featured Article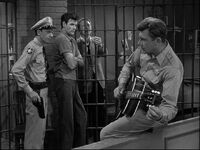 Mayberry Music—
Mayberry Music is a new article here at The Andy Griffith Show Wiki. Our goal is to create an article filled with videos to all the songs and music heard through the series run. Feel free to help us out. Remember a song but don't see the video? Just let us know.
Read More...
Monthly Poll
Who is your favorite and funniest female on TAGS?
50 users voted in our last poll, and the results are in! 44% of you chose Season 3 as your favorite black and white season of TAGS.

Featured Video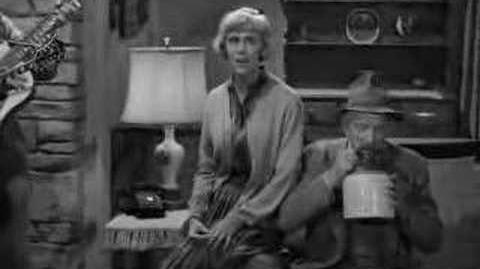 Featured Image


Featured Quote
"Damp under there...Could be spiders!" -Gomer Pyle

Update/News from TAGS Wiki We are looking for people to help edit. If you would like to get started, we have the Pages needing attention page. If you need help from an admin, please feel free to contact me directly: QueenBuffy

Want to be an Affiliate
Want your own Andy Griffith Show site to be seen? Then become an affiliate. Here is how: CLICK HERE


Mayberry After Midnight
Loading RSS data...
Mayberry Blogs