Home
Talk

1
1,502pages on
this wiki
The Andy Griffith Show Wiki... an in-depth encyclopedic guide to the beloved CBS television series. We are a collaborative website about the small-town world of The Andy Griffith Show that first started to grow on September 30, 2008. The wiki format allows anyone to create or edit any article, so we can all work together to create the site. Now, take a stroll into Mayberry.
Featured Character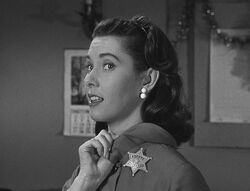 Ellie Walker—
Ellie Walker is a pharmacist (or "female druggist" as Andy called her) who assists her uncle Fred Walker at Walker's Drugstore in Mayberry. She is played by actress Elinor Donahue in twelve episodes of the first season of The Andy Griffith Show, during which she becomes Andy Taylor's girlfriend. After her appearance in episode The Guitar Player Returns, she inexplicably leaves the series. Ellie makes 12 appearances in the first season.
Read More...
Featured Episode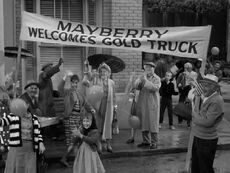 A top-secret gold shipment from the Denver Mint to Fort Knox is scheduled to make a stop in Mayberry, and only Andy and Barney know about it. It turns out Barney can't keep a secret and everybody in town soon knows about the gold. The top secret shipment is greeted with a carnival-like reception and Barney almost blows another secret when he discovers the gold is gone.
Read more...
Featured Prisoner or Criminal
David Browne—
David Browne is a wanderer who impresses Opie. Andy and Opie are going fishing when they come across him. Opie enjoys his good humor and 'magic fish talk'. It isn't long before Barney hauls him into the courthouse for vagrancy. Dave isn't booked and continues to form a bond with Opie. Opie begins skipping school to fish with Dave and also eats lunch with him, a stolen chicken. After Andy has a talk with him, David is arrested for stealing Aunt Bee's purse.
Read More...
Featured Article
Mayberry Music—
Mayberry Music is a new article here at The Andy Griffith Show Wiki. Our goal is to create an article filled with videos to all the songs and music heard through the series run. Feel free to help us out. Remember a song but don't see the video? Just let us know.
Read More...
Monthly Poll
Who is your favorite and funniest female on TAGS?
50 users voted in our last poll, and the results are in! 44% of you chose Season 3 as your favorite black and white season of TAGS.


Featured Video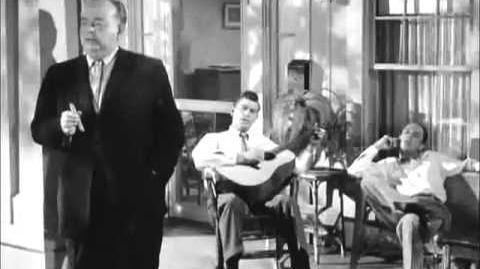 Featured Image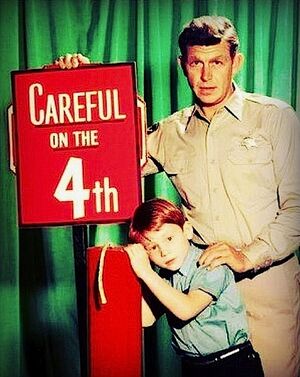 Featured Quote
"Call the Man!" -Andy Taylor

Update/News from TAGS Wiki We are looking for people to help edit. If you would like to get started, we have the Pages needing attention page. If you need help from an admin, please feel free to contact me directly: QueenBuffy

Want to be an Affiliate
Want your own Andy Griffith Show site to be seen? Then become an affiliate. Here is how: CLICK HERE


Mayberry After Midnight
Loading RSS data...
Mayberry Blogs
Create blog post
Don't forget to watch TV Land this July 4th weekend!

The Andy Griffith Show marathon will begin Friday the 4th at 9:00am.


Here is the direct link to TV Land's page. TAGS 4th of July…


Read more >
See more >