Home
Talk

1
1,459pages on
this wiki
The Andy Griffith Show Wiki is a collaborative website about the small-town world of The Andy Griffith Show that first started to grow on September 30, 2008. The wiki format allows anyone to create or edit any article, so we can all work together to create the site. Now, take a stroll into Mayberry.
Featured Character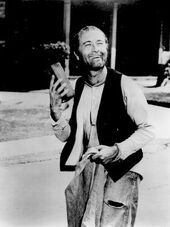 Ernest T. Bass—
Ernest T. Bass is an ignorant and obstreperous mountain man with a penchant for rock throwing, who is known to wreak havoc on the otherwise quiet town of Mayberry. He lives in the mountains neighboring Mayberry, and his appearance in town almost always means trouble for Sheriff Andy Taylor and Deputy Barney Fife. A wild, belligerent hillbilly, he has a scruffy appearance, a maniacal laugh, and often speaks in rhyme. When threatened with the law, Ernest T. generally runs off, yelling over his shoulder his famous catchphrase, "You ain't seen the last of Ernest T. Bass!"
Read More...
Featured Episode
Opie and the Bully—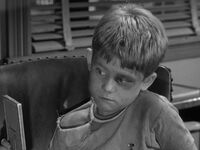 Andy discovers that Opie is getting extra money for school. When he questions Opie and doesn't get a real answer, Barney sees a chance to put his detective skills to use in order to get to the bottom of it. He trails Opie to school one morning and discovers that Opie is being threatened into giving up his nickel every day by a bully named Sheldon. Despite Barney's insistence that he intervene, Andy decides to let Opie handle the situation himself. Andy explains that Opie has to learn to stand up for himself, even if the consequences might be a little painful.
Read more...
Featured Prisoner or Criminal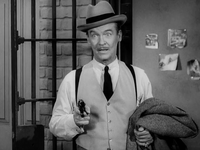 "Gentleman" Dan Caldwell—
"Gentleman" Dan Caldwell is one of the most famous and notorious guests the Mayberry Jail has ever housed. It's doesn't take much for Gentleman Dan to not only charm his way into the good graces of an already smitten Barney, but Opie and Aunt Bee also. A master of charm, Dan is treated practically like royalty when he locked up. Andy, however, is none too trusting of Mayberry's guest. Of course, it's not long before Dan turns the tables on his new found friends in an attempt to escape.
Read More...
Featured Article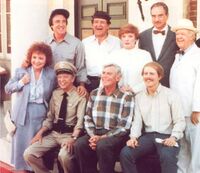 Return to Mayberry—
Andy Taylor, now a US Postal Inspector, returns to his hometown of Mayberry, North Carolina with wife Helen Crump- whom he had married in 1968, on the sequel series Mayberry R.F.D.) but without his second-born son Andy, Jr. (christened on R.F.D.). Andy returns to Mayberry to see son Opie (Ron Howard) into fatherhood, and learns the office of sheriff is open. Andy puts aside any thoughts of running when he learns that his old deputy and cousin, Barney Fife, left Raleigh, and was appointed acting sheriff. Barney intends to win the elected position outright.
Read More...
Monthly Poll
What is your favorite black and white season?
80 users voted in out last poll, and the results are in! 59% of you would chose doing EVERYTHING if you got to visit Mayberry for a day!
Featured Video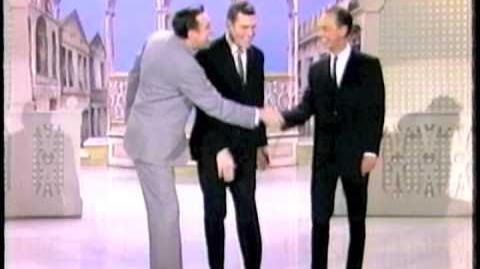 Featured Image
Featured Quote
"You're talkin' about a silly little runt with a rock in his hand - not John Dillinger!" -Andy Taylor

Update/News from TAGS Wiki We are looking for people to help edit. If you would like to get started, we have the Pages needing attention page. If you need help from an admin, please feel free to contact me directly: QueenBuffy

Want to be an Affiliate
Want your own Andy Griffith Show site to be seen? Then become an affiliate. Here is how: CLICK HERE


Mayberry After Midnight
Loading RSS data...
Mayberry Blogs
Create blog post
Just a reminder that The Andy Griffith Show will be shown on TVLand, Thanksgiving day!

It will begin 12:15pm and stay on till 7:30pm (central time).

I love this time of year, especi…

Read more >
See more >