Home
Talk

1
1,440pages on
this wiki
The Andy Griffith Show Wiki is a collaborative website about the small-town world of The Andy Griffith Show that first started to grow on September 30, 2008. The wiki format allows anyone to create or edit any article, so we can all work together to create the site. Now, take a stroll into Mayberry.
Featured Character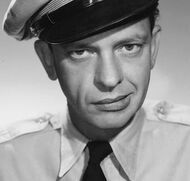 Barney Fife—
Don Knotts created Deputy Barney Fife as a hyper-kinetic but comically inept counterpart to Mayberry's practical and composed Sheriff Andy Taylor. Sometimes considered a blowhard with delusions of grandeur, Barney fancies himself an expert on firearms, women, singing and just about any other topic of conversation brought up while he is around. Conversely, Andy knows that Barney's false bravado is a smokescreen for his insecurities, and low self-confidence. Barney is often overly analytical and alarmist about benign situations.
Read More...
Featured Episode
Andy and Opie Housekeepers—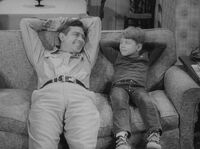 Aunt Bee must leave Mayberry to care for a sick cousin, but not before scolding Andy and Opie for their messy housekeeping habits. The two are determined to clean house before she returns - a project that suddenly accelerates when she phones to say she'll be coming home earlier then expected. After Aunt Bee finishes scolding Andy and Opie for being slobs, she has to go out of town for a few days, leaving her boys to take care of themselves.
Read more...
Featured Article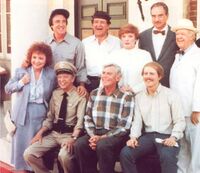 Return to Mayberry—
Andy Taylor, now a US Postal Inspector, returns to his hometown of Mayberry, North Carolina with wife Helen Crump- whom he had married in 1968, on the sequel series Mayberry R.F.D.) but without his second-born son Andy, Jr. (christened on R.F.D.). Andy returns to Mayberry to see son Opie (Ron Howard) into fatherhood, and learns the office of sheriff is open. Andy puts aside any thoughts of running when he learns that his old deputy and cousin, Barney Fife, left Raleigh, and was appointed acting sheriff. Barney intends to win the elected position outright.
Read More...
Monthly Poll
If you could visit Mayberry for a day, what would you do?
47 users voted in last week's poll, and the results are in!

34% of you would chose Law Enforcement as your career if you lived in Mayberry.


Thanks for voting, and be sure to check back for new polls each week!


Featured Video


Featured Image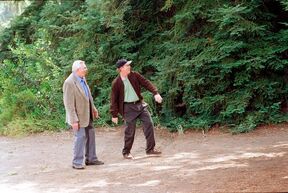 Featured Quote
"Gun-drawing practice, ten minutes every day. If I ever have to use this baby, I want to teach it to come to papa in a hurry." -Barney Fife


Want to be an Affiliate
Want your own Andy Griffith Show site to be seen? Then become an affiliate. Here is how: CLICK HERE





Mayberry After Midnight
Loading RSS data...
Mayberry Blogs
Create blog post
From: TV Classics-R-Us on Facebook TVLand will be airing a Andy Griffith marathon in part of their Laugh More-a-thon during the Thanksgiving holiday. Please make a note of the mar…

Read more >
See more >