The Andy Griffith Show Mentioned Characters
Comments

30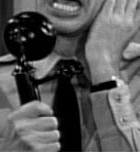 This is a list of characters whose names are mentioned in dialogue, but who do not actually appear on The Andy Griffith Show.
Halcyon Loretta Winslow (The Darling Baby): Barney could have gotten engaged to her but he thought she was ugly.
Hannah Lou Smith (Ernest T. Bass Joins the Army): Ernest T. Bass broke windows in her greenhouse
Harley: (Andy's Vacation) Andy is on the phone with him. He has dammed up "Snake Skin Creek".
Harry Blake (Howard the Comedian) President of the Elks Lodge.
Harper family (Opie's Job): Otis got drunk and drove his car through their rose garden.
Harvey Willick (The Farmer Takes a Wife): Harvey runs a shoe store and needed a clerk.
Herb Crowley (Andy Forecloses): Has old porch furniture for the rummage sale.
Herb Mason (Goodbye, Sheriff Taylor): Andy's friend from Raleigh, who calls and offers him a detective job.
Hog Winslow (My Fair Ernest T. Bass)
Hogette Winslow (My Fair Ernest T. Bass):

Hog Winslow's daughter.

Ernest T. hit her in the head with a rock. Her name is French.

Hoadie Snitch (Opie and the Bully): Andy's childhood bully.
Hugo Hopfleisch - (Andy's Vacation) An old German soldier that Barney looks up to, Barney also got some information on how to shine shoes properly from him.
Karen Faulker (Opie's Newspaper): Fell down and hurt her new at the Elm St. park.
Katherine Palmer (Opie's Rival): She is a friend of Aunt Bee
Pete Dooley (The Big House): His truck splashed mud on Mrs.Fletcher
Phoebe Gilbert (Opie's Fortune) Barney took out Phoebe once, to "Blue View" restaurant. She has a sister named Limley Gilbert who works at the beauty shop.
Purcell Branch (Citizen's Arrest): Tyler Branch's father. He was arrested for disturbing the peace.
Uncle Ollie (The Family Visit) Andy's uncle, married to his Aunt Nora. Used to play baseball with Andy and claims he taught Andy "everything he knows".
Uncle Nat (The Loaded Goat): Otis (who is drunk) mistakes the goat for his uncle.