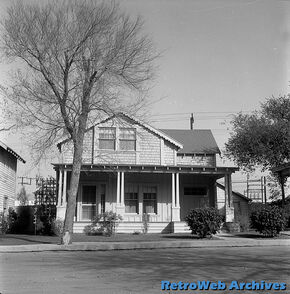 The Taylor House was Andy Taylor's residence in Mayberry. It housed Andy Taylor, Opie Taylor, Aunt Bee & at one time Rose Pine, Andy's housekeeper prior to Aunt Bee's arrival.
Dining RoomEdit
Living RoomEdit
The living room has a big stone fireplace.
The kitchen has a table where the Taylors eat breakfast.
StaircaseEdit
The staircase had four steps that went up to the bedrooms.
Upstairs/BathroomEdit
Opie's BedroomEdit
Aunt Bee's BedroomEdit
Andy's BedroomEdit
Guest RoomEdit
Notable Overnight Guests
Edit