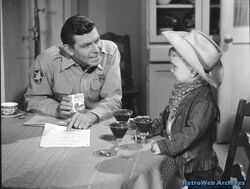 Sponsor Spots are clips in The Andy Griffith Show, usually featuring Andy, Barney and Opie, but sometimes other characters appear too. They were usually seen at the end of an episode.
Post CerealsEdit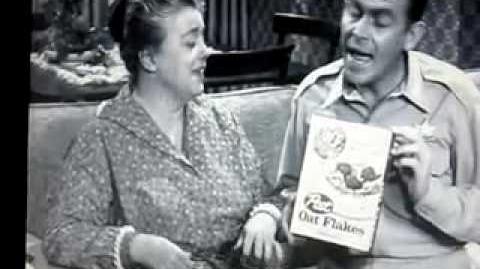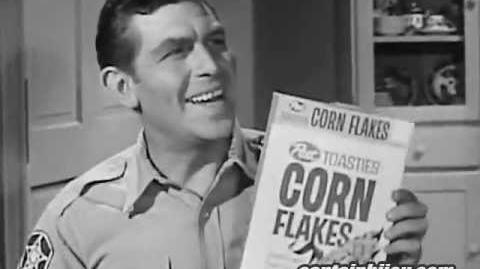 Sanka CoffeeEdit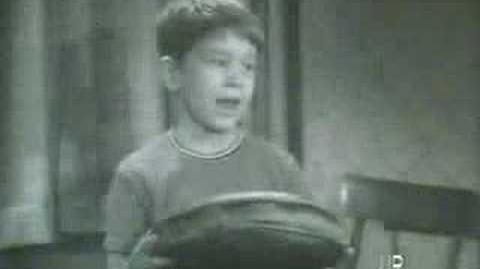 Jell-O PuddingEdit
Chocolate Jello Pie Filling
Danny Meets Andy Griffith - Sanka Coffee
The New Housekeeper -
The Manhunt -
The Guitar Player -
Ellie Comes to Town -
Irresistible Andy -
Runaway Kid -
Andy the Matchmaker -
Opie's Charity -
A Feud Is a Feud -
Ellie for Council -
The Christmas Story - None
Stranger in Town -
Mayberry Goes Hollywood -
The Horse Trader -
Those Gossipin' Men -
The Beauty Contest -
Alcohol and Old Lace -
Andy the Marriage Counselor -
Mayberry on Record -
Andy Saves Barney's Morale -
Andy and the Gentleman Crook -
Cyrano Andy -
Andy and Opie Housekeepers -
The New Doctor -
A Plaque for Mayberry -
The Inspector -
Ellie Saves a Female -
Andy Forecloses -
Quiet Sam -
Barney Gets His Man -
The Guitar Player Returns -
Bringing Up Opie -
Opie and the Bully -
Barney's Replacement -
Andy and the Woman Speeder -
Mayberry Goes Bankrupt -
Barney on the Rebound -
Opie's Hobo Friend -
Crime-Free Mayberry -
The Perfect Female - Sanka Coffee
Aunt Bee's Brief Encounter -
The Clubmen -
The Pickle Story -
Sheriff Barney -
The Farmer Takes a Wife -
The Keeper of the Flame - Sanka Coffee
Bailey's Bad Boy -
The Manicurist - Sanka Coffee
The Jinx -
Jailbreak - Sanka Coffee
A Medal for Opie - Post Toasties
Barney and the Choir - Sanka Coffee
Guest of Honor - Post Toasties
The Merchant of Mayberry - None
Aunt Bee the Warden -
The County Nurse - Sanka Coffee
Andy and Barney in the Big City - Post Grape-Nuts Flakes
Wedding Bells for Aunt Bee -
Three's a Crowd - Post Toasties
The Bookie Barber - Sanka Coffee
Andy on Trial -
Cousin Virgil -
Deputy Otis -
Mr. McBeevee - Jell-O Chocolate Pudding & Pie Filling
Andy's Rich Girlfriend -
Andy and the New Mayor - Jell-O Vanilla Pudding & Pie Filling
Andy and Opie Bachelors -
The Cow Thief -
Barney Mends a Broken Heart -
Lawman Barney -
The Mayberry Band -
Floyd the Gay Deceiver -
Opie's Rival - Sanka Coffee
Convicts-at-Large -
The Bed Jacket - Sanka Coffee
The Bank Job -
One-Punch Opie -
Barney and the Governor - Jell-O Butterscotch Pudding & Pie Filling
Man in a Hurry - Sanka Coffee
Ad blocker interference detected!
Wikia is a free-to-use site that makes money from advertising. We have a modified experience for viewers using ad blockers

Wikia is not accessible if you've made further modifications. Remove the custom ad blocker rule(s) and the page will load as expected.