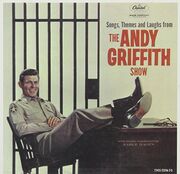 Songs, Themes and Laughs from The Andy Griffith Show
is a vinyl LP that was released by Capitol Records in 1961 to promote the TV series
The Andy Griffith Show
. Songs are performed by
Andy Griffith
. The album includes several themes composed for the series by
Earle Hagen
. It was released in CD format April 3, 2000.
Track ListingEdit
1. The Andy Griffith Theme
2. Jack, The Giant Killer
3. Flop Eared Mule
4. Ellie's Theme
5. Sourwood Mountain
6. The Man Hunt
7. "The Fishin' Hole" (lyrics by Everett Sloane)
8. Aunt Bee
9. The New River Train
10. Mayberry March
11. Cindy
12. Barney's Hoe Down
Ad blocker interference detected!
Wikia is a free-to-use site that makes money from advertising. We have a modified experience for viewers using ad blockers

Wikia is not accessible if you've made further modifications. Remove the custom ad blocker rule(s) and the page will load as expected.