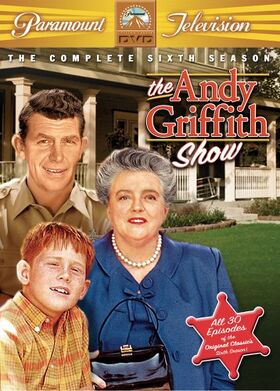 Season 6 of The Andy Griffith Show was the first season with colored episodes. Ask a certain portion of diehard Andy Griffith Show fans why the series' sixth season (1965-66) is less well-loved than others from its eight-year run, and the answer boils down to four words: "Warren Ferguson" and "color episodes." Played by veteran comedian and writer Jack Burns, Warren was the replacement for Don Knotts' Barney Fife as Andy's Deputy, and lasted for just eleven of the season's 30 episodes before vanishing without a trace. The brickbats heaved at Warren are undeserved, though; replacing the multi-Emmy-winning Knotts was a task that few performers would have relished facing (and indeed, Knotts earned another Emmy for his return to the series in two episodes, "The Return of Barney Fife" and "The Legend of Barney Fife"), and Burns certainly gives his all (including his signature, rapid-fire "huh-huh-huh" gag line) to the character. He's no Barney Fife, and who could be, aside from Knotts? As for the color issue, the debate seems to be centered entirely around preference, although it's true that in syndication, viewer response has been traditionally stronger to the black-and-white broadcasts of seasons 1-5.
Aside from the Barney/Warren and color controversies, the sixth season is notable for the final appearances of supporting characters Malcolm Merriweather (Bernard Fox) and Ernest T. Bass (the great Howard Morris) in "Malcolm at the Crossroads" (in which the pair tangle over a crosswalk), as well as such fun episodes as "The Taylors in Hollywood" (Andy, Opie, and Aunt Bee react to a movie being made about them, with The Love Boat's Gavin MacLeod as the movie Andy); Andy's Rival (Charles Aidman guest stars as a new teacher whose working relationship with Helen Crump makes Andy nervous); and Otis the Artist (an amusing Warren episode, in which he suggests painting to Otis as a substitute for drinking). Andy Griffith completists will also note the presence of Jack Dodson in the episode "Lost and Found"; Dodson would later join the series as County Clerk Howard Sprague and transition with most of the supporting cast to Mayberry R.F.D.
Season 6 Episodes
Edit
#
Image
Title
Airdate
01
Opie's Job
September 13, 1965
Opie gets a part-time job in a grocery store, but gives it up because another boy needs employment more.
02
Andy's Rival
September 20, 1965
Andy becomes jealous when he realizes that a handsome new teacher is spending evenings with his girlfriend, Helen.
03
Malcolm at the Crossroads
September 27, 1965
Andy hires Ernest T. Bass as a school crossing guard and compounds the problem by replacing him with British bicycler, Malcolm Merriweather.
04
Aunt Bee the Swinger
October 4, 1965
Aunt Bee and her new boyfriend aren't as young as they used to be - or as they first thought.
05
The Bazaar
October 11, 1965
Andy's new eager-beaver deputy, Warren Ferguson, jails Aunt Bee and her friends for gambling (bingo) at their charity bazaar.
06
A Warning from Warren
October 18, 1965
Andy's deputy upsets his weekend when he insists his ESP predicts a picnic will end in disaster.
07
Off to Hollywood
October 25, 1965
The Taylors leave for a Hollywood vacation.
08
The Taylors in Hollywood
November 1, 1965
The Taylors start an exciting vacation in Hollywood, including a visit to the set of a movie based on Andy's life, "Sheriff Without a Gun".
09
The Hollywood Party
November 8, 1965
Andy poses for a picture with a Hollywood starlet and his romance with Helen is jolted when it appears in the Mayberry paper.
10
Aunt Bee on TV
November 15, 1965
Aunt Bee wins a kitchen-full of new appliances on a TV show but loses all her friends.
11
The Cannon
November 22, 1965
Warren captures a pair of thieves through sheer stupidity about the functions of a cannon.
12
A Man's Best Friend
November 29, 1965
Goober has dreams of entering show business when he thinks he owns a genuine talking dog.
13
Aunt Bee Takes a Job
December 6, 1965
Aunt Bee gets a job at the town print shop where the new proprietors are really counterfeiters.
14
The Church Organ
December 13, 1965
Andy struggles with the financial challenge of helping the All Souls Church buy a new church organ.
15
Girl-Shy
December 20, 1965
Girl-shy Warren turns into a sleep walking Casanova after watching his suave hero on television.
16
Otis the Artist
January 3, 1966
Warren starts Otis, the town drunk, on a therapeutic art career.
17
The Return of Barney Fife
January 10, 1966
Barney makes a triumphal return to Mayberry to attend his high school reunion and is elated to find Thelma Lou will be attending...until he learns she is with her new husband.
18
The Legend of Barney Fife
January 17, 1966
While visiting Mayberry, Barney is forced to display his "legendary courage" by going after an escaped convict.
19
Lost and Found
January 24, 1966
Aunt Bee collects insurance for the loss of an antique jeweled pin. After she spends the money, she finds the missing heirloom.
20
Wyatt Earp Rides Again
January 31, 1966
The supposed descendant of the famous Wyatt Earp rides into Mayberry. He demands a duel with Andy after he considers his family honor to be insulted.
21
Aunt Bee Learns to Drive
February 7, 1966
Andy faces some problems when Aunt Bee buys a second-hand car.
22
Look Paw, I'm Dancing
February 14, 1966
Reluctant Opie attends his first dancing party, and discovers dancing with girls is fun.
23
The Gypsies
February 21, 1966
Andy has a problem when a band of Gypsies come to town armed with old-world hocus-pocus and modern science.
24
Eat Your Heart Out
February 28, 1966
Goober falls in love with a new waitress in town but she becomes infatuated with Andy.
25
A Baby in the House
March 7, 1966
Aunt Bee agrees to a week of baby-sitting for her niece and finds the adorable infant adores everyone but her.
26
The County Clerk
March 14, 1966
Andy and Helen run into trouble when they promote a romance between the County Clerk, Howard Sprague and the county nurse.
27
The Foster Lady
March 21, 1966
Aunt Bee almost becomes a star of a television commercial before she decides stardom is not for her.
28
Goober's Replacement
March 28, 1966
Goober's girlfriend fills in for him at the filling station and proves so efficient that the boss wants her as Goober's permanent replacement.
29
The Battle of Mayberry
April 4, 1966
Opie upsets the whole town when he discovers that the famous Battle of Mayberry was not the glorious victory that everyone thought it was.
30
A Singer in Town
April 11, 1966
Aunt Bee's original song about Mayberry is a hit when a Rock 'n' Roll star plays it on his television show.
Ad blocker interference detected!
Wikia is a free-to-use site that makes money from advertising. We have a modified experience for viewers using ad blockers

Wikia is not accessible if you've made further modifications. Remove the custom ad blocker rule(s) and the page will load as expected.