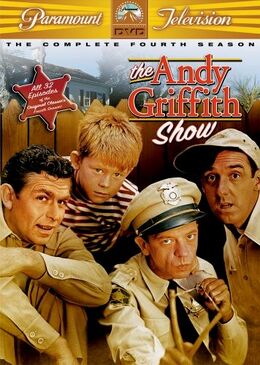 The Andy Griffith Show returned with their fourth season on September 30, 1963.
Season Overview
Edit
Goober fans, rejoice--the arrival of George Lindsey's popular character is just one of the homespun joys of The Andy Griffith Show's fourth season. Lindsay as Goober Pyle, cousin to Jim Nabors's Gomer, makes his debut in one of the season's funniest episodes, "The Fun Girls," which is also the only time Gomer and Goober appeared together on screen. By season's end, Gomer would depart for his own series (season 4's final episode, "Gomer Pyle, U.S.M.C.," would serve as the pilot for that program), but before then, he enjoyed some fine episodes, including "Andy Saves Gomer" from a fire at the filing station and "Citizen's Arrest" (a knockout showcase for Nabors and Don Knotts, who is topnotch, as always, as Barney Fife). Other supporting characters get a spotlight or two in season 4, including Howard Morris's Ernest T. Bass ("Hot Rod Otis, "Ernest T. Bass Joins the Army") and Denver Pyle as Briscoe Darling, patriarch of the Darling clan, and Maggie Peterson's as Charlene Darling, the young lady that was smitten with Andy ("Briscoe Declares for Aunt Bee"), but of course, the crux of the show remains Andy and son Opie (Ron Howard), who do stand-out work in the well-loved "Opie the Birdman," which addresses serious topics--death and responsibility--in the series' typically warm and humane manner.
#
Image
Title
Airdate
01
Opie the Birdman
September 30, 1963
Opie hand-raises three orphaned baby birds, after accidentally killing the mother bird.
02
The Haunted House
October 7, 1963
Barney and Gomer try to retrieve a baseball from a supposedly haunted house and find some strange goings on inside.
03
Ernest T. Bass Joins the Army
October 14, 1963
Ernest T. Bass wants to join the Army
04
The Sermon for Today
October 21, 1963
A visiting minister advises the people of Mayberry to relax.
05
Briscoe Declares for Aunt Bee
October 28, 1963
Briscoe Darling woos Aunt Bee and carries her off to his mountain cabin.
06
Gomer the House Guest
November 4, 1963
Gomer moves into the Taylor House after losing his job at Wally's Filling Station.
07
A Black Day for Mayberry
November 11, 1963
A shipment of gold passes through Mayberry on its way to Fort Knox.
08
Opie's Ill-Gotten Gain
November 18, 1963
Opie gets a new bicycle as a reward for his good report card.
09
A Date for Gomer
November 25, 1963
Gomer has a date with Thelma Lou's cousin Mary Grace.
10
Up in Barney's Room
December 2, 1963
Barney gets thrown out of his apartment.
11
Citizen's Arrest
December 16, 1963
When Barney tickets Gomer, Gomer decides turnabout is fair play.
12
Opie and His Merry Men
December 30, 1963
A hobo gets Opie and his friends to provide him with food.
13
Barney and the Cave Rescue
January 6, 1964
After a landslide traps Andy and Helen in a cave, all Mayberry sets off to the rescue.
14
Andy and Opie's Pal
January 13, 1964
Opie is jealous of the attention his father pays to a friend.
15
Aunt Bee the Crusader
January 20, 1964
Aunt Bee stages a protest when a farmer is threatened with eminent domain.
16
Barney's Sidecar
January 27, 1964
Barney invests into a motorcycle, which quickly becomes a town nuisance.
17
My Fair Ernest T. Bass
February 3, 1964
Andy tries to pass off Ernest T. as a sophisticate at a swanky party.
18
Prisoner of Love
February 10, 1964
A female prisoner tries to work her magic on Andy and Barney.
19
Hot Rod Otis
February 17, 1964
Otis surprises everyone when he purchases a car.
20
The Song Festers
February 24, 1964
Barney is the only tenor in the choir. When a tenor solo part is required and the choir director is desperate to find someone else to sing the part. Gomer becomes the replacement.
21
The Shoplifters
March 2, 1964
Ben Weaver complains to the Mayberry sheriff's office that merchandise has been disappearing from his department store. While Andy investigates, Barney decides to go undercover to catch the crook(s).
22
Andy's Vacation
March 9, 1964
Barney continuously interrupts Andy's vacation plans.
23
Andy Saves Gomer
March 16, 1964
Gomer believes Andy has saved his life, so he continuously tries to repay him.
24
Bargain Day
March 23, 1964
Aunt Bee stores a side of beef in a faulty freezer.
25
Divorce, Mountain Style
March 30, 1964
Charlene Darling uses a mountain ritual to divorce Dud Wash and marry Andy.
26
A Deal Is a Deal
April 6, 1964
Opie and his friends get involved in a scheme selling a worthless product called 'Miracle Salve'.
27
The Fun Girls (episode)
April 13, 1964
Helen and Thelma Lou catch Andy and Barney with The Fun Girls.
28
The Return of Malcolm Merriweather
April 20, 1964
Aunt Bee feels unneeded when Malcom Merriweather pays a visit.
29
The Rumor
April 27, 1964
Barney, Aunt Bee, and Thelma Lou believe Andy and Helen are engaged.
30
Barney and Thelma Lou - Phfftt
May 4, 1964
Thelma Lou uses Gomer to make Barney jealous.
31
Back to Nature
May 11, 1964
Andy and Barney take Opie and his friends on a camping trip.
32
Gomer Pyle U.S.M.C. (episode)
May 18, 1964
Gomer leaves Mayberry to join the United States Marine Corps.
Ad blocker interference detected!
Wikia is a free-to-use site that makes money from advertising. We have a modified experience for viewers using ad blockers

Wikia is not accessible if you've made further modifications. Remove the custom ad blocker rule(s) and the page will load as expected.