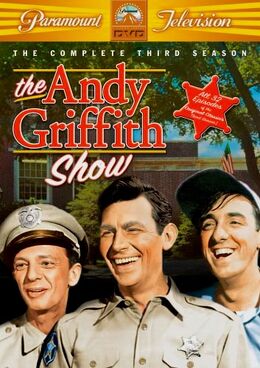 The Andy Griffith Show returned with their third season on October 1, 1962.
Season Overview
Edit
The Andy Griffith Show hits its stride during the third season, (1962-63). Andy Griffith perfects his level-headed portrayal of Sheriff Andy Taylor; Don Knotts is unsurpassed as the comically neurotic, and best-loved Deputy Barney Fife; and Ron Howard continues his legendary run as Opie Taylor. The season opens with the endearing episode, "Mr. McBeevee", introducing Opie's friend in the trees, who Andy and Barney both believe to be a figment of Opie's imagination. From there, every episode is a renowned classic, e.g. "Floyd the Gay Deceiver", starring the dashing Howard McNear as Floyd Lawson, the best, and only barber in Mayberry; "Andy and Opie Bachelors", offering some of the season's greatest quips; and "The Darlings Are Coming," that crazy clan of mountain musicians, consisting of The Dillards, and the young, beautiful and overtly flirtatious, Charlene Darling, played by the very talented Maggie Peterson, and the patriarch of the family, Briscoe Darling, portrayed perfectly by the legendary Denver Pyle. The season is acclaimed for introducing several new, recurring characters into the cast, including Jim Nabors, as our beloved Gomer Pyle, Joanna Moore, as "Miss Peggy", and the future Mrs. Andy Taylor, Helen Crump, played by Aneta Corsaut. Don't miss the season highlight, "Man in a Hurry," a touching story in which Malcolm Tucker, played to perfection by Robert Emhardt, delivers the now-famous summation of life in the small town of Mayberry: "Outrageous… a whole town is standing still because two old women's feet fall asleep!" This is one of the reasons why this beloved sitcom remains a timeless treasure.
#
Image
Title
Airdate
01
Mr. McBeevee
October 1, 1962
Opie starts talking about his new friend Mr. McBeevee, but his description is hard to believe.
02
Andy's Rich Girlfriend
October 8, 1962
Andy has a rich girlfriend who accuses him of being a snob.
03
Andy and the New Mayor
October 15, 1962
Mayberry's new mayor doesn't like Andy or the way he does his job.
04
Andy and Opie Bachelors
October 22, 1962
Aunt Bee leaves town for a few days, leaving Andy and Opie to take care of themselves. When Peggy volunteers to cook for them, Floyd tries to convince Andy that she is trying to catch a husband.
05
The Cow Thief
October 29, 1962
The mayor calls in an investigator from the state capital to help solve a string of cow thefts.
06
Barney Mends a Broken Heart
November 5, 1962
Andy has a tantrum when Peggy entertains a friend from out of town.
07
Lawman Barney
November 12, 1962
Barney confronts two farmers selling produce illegally.
08
The Mayberry Band
November 19, 1962
Mayberry's town band is the worst in the state and Mayor Stoner refuses to allow them to go to the state capital to preform.
09
Floyd the Gay Deceiver
October 1, 1962
Floyd tries to impress his pen pal Madeline Grayson by posing as a wealthy man.
10
Opie's Rival
December 3, 1962
Andy's new girlfriend is the new county nurse named Peggy. Everyone likes her except Opie, who is jealous of all the time they spend together.
11
Convicts-at-Large
December 10, 1962
Barney and Floyd run out of gas while coming home from a fishing trip. They find while looking for a telephone and are captured by three female escaped convicts.
12
The Bed Jacket
December 17, 1962
Aunt Bee wants a pretty bed jacket for her birthday.
13
The Bank Job
December 24, 1962
Barney demonstrates the bank's vulnerability to robberies.
14
One-Punch Opie
December 31, 1962
A new boy in town causes trouble.
15
Barney and the Governor
January 7, 1963
Barney issues a citation when the governor's chauffeur parks in a no parking zone.
16
Man in a Hurry
January 14, 1963
A motorist becomes frustrated with Mayberry's simple, relaxed ways.
17
High Noon in Mayberry
January 21, 1963
A man Andy put behind bars returns to Mayberry.
18
The Loaded Goat
January 28, 1963
Andy and Barney devise a plan to save a dynamite-eating goat.
19
Class Reunion
February 4, 1963
Andy meets an old girlfriend at his high school reunion.
20
Rafe Hollister Sings
February 11, 1963
Rafe Hollister represents Mayberry at a formal musical event.
21
Opie and the Spoiled Kid
February 18, 1963
Opie's work ethic is corrupted by a spoiled friend.
22
The Great Filling Station Robbery
February 25, 1963
Andy suspects young Jimmy Morgan is robbing Wally's Filling Station.
23
Andy Discovers America
March 4, 1963
Andy gets into hot water with Opie's new teacher Helen Crump.
24
Aunt Bee's Medicine Man
March 11, 1963
Colonel Harvey, a traveling medicine man comes to Mayberry and captivates Aunt Bee.
25
The Darlings Are Coming
March 18, 1963
The musical mountain family descends upon Mayberry.
26
Andy's English Valet
March 25, 1963
An Englishman works off a fine by acting as Andy's valet.
27
Barney's First Car
April 1, 1963
An elderly con woman sells Barney a car.
28
The Rivals
April 8, 1963
Opie falls in love with Thelma Lou.
29
A Wife for Andy
April 15, 1963
Barney plays matchmaker for Andy.
30
Dogs, Dogs, Dogs
April 22, 1963
The courthouse is overrun with dogs.
31
Mountain Wedding
April 29, 1963
Ernest Bass makes his intentions known to Charlene Darling.
32
The Big House
May 6, 1963
When the Mayberry jail is called upon to lodge two hold-up men captured by the state police, Barney finds himself with more than he can handle.