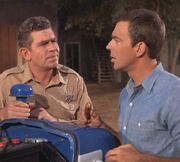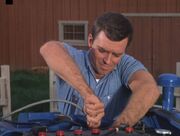 Original Airdate
March 11, 1968
Plot
A vacancy opens up for the head of town council and Emmett throws his hat into the ring but Andy talks Sam Jones into running.
Notes
This episode mainly serves as the beginning of the end of TAGS and starts the ball rolling on using the few remaining tags episodes to get the audiance used to the Sam & Mike Jones characters for the up and coming Mayberry RFD spinoff series.
Cast
Crew
Ad blocker interference detected!
Wikia is a free-to-use site that makes money from advertising. We have a modified experience for viewers using ad blockers

Wikia is not accessible if you've made further modifications. Remove the custom ad blocker rule(s) and the page will load as expected.