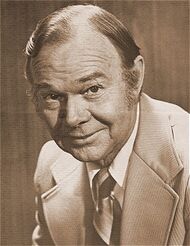 Sam Edwards (May 26, 1915 - July 28, 2004) appeared in episodes of The Andy Griffith Show, Gomer Pyle U.S.M.C. and Mayberry R.F.D. His many film appearences include Disney's Bambi (as the voice of adult Thumper), Twelve O'Clock High, Operation Pacific, Flying Leathernecks, Disney's The Absent-Minded Professor, Bullitt, Hello Dolly!, The Cheyenne Social Club, Disney's Escape to Witch Mountain and the 1981 version of The Postman always Rings Twice. He also played a recurring role as Bill Anderson in "Little House on the Prairie".
Ad blocker interference detected!
Wikia is a free-to-use site that makes money from advertising. We have a modified experience for viewers using ad blockers

Wikia is not accessible if you've made further modifications. Remove the custom ad blocker rule(s) and the page will load as expected.