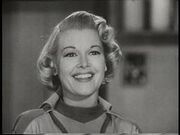 Sally Mansfield
(December 3, 1923 - January 1, 2001) appeared on two episodes of
The Andy Griffith Show
. She played recurring characters in the TV series "The Gene Autry Show" and "Bachelor Father" and appeared in the comedy films
Phffft
and
The Errand Boy
. However, her most enduring role was as Vena Ray in the children's sci-fi adventure series "Rocky Jones, Space Ranger".
Ad blocker interference detected!
Wikia is a free-to-use site that makes money from advertising. We have a modified experience for viewers using ad blockers

Wikia is not accessible if you've made further modifications. Remove the custom ad blocker rule(s) and the page will load as expected.