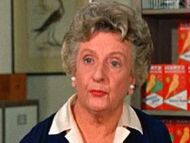 Ruth McDevitt (September 13, 1895 - May 27, 1976) appeared in episodes of The Andy Griffith Show and Mayberry R.F.D. She also played Mom Peepers on "Mr. Peepers", Mrs. Gossage on "The New Andy Griffith Show", Jo Nelson on "All in the Family" and Emily Cowles on "Kolchak: The Night Stalker". Her film appearances include The Long Long Trailer, Disney's The Parent Trap, Boy's Night Out, Hitchcock's The Birds, The New Interns, Dear Heart, The Shakiest Gun in the West (with Don Knotts), Angel in My Pocket (with Andy Griffith), The Love God? (with Don Knotts), Change of Habit, The War between Men and Women and Mame.
Ad blocker interference detected!
Wikia is a free-to-use site that makes money from advertising. We have a modified experience for viewers using ad blockers

Wikia is not accessible if you've made further modifications. Remove the custom ad blocker rule(s) and the page will load as expected.