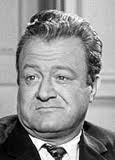 Roy Engel (September 13, 1913 - December 29, 1980) appeared in episodes of The Andy Griffith Show. His film appearances include Strangers on a Train, The Day the Earth Stood Still, The Beast from 20,000 Fathoms, The Band Wagon, Executive Suite, Love Me or Leave Me, It Came from Beneath the Sea, Spartacus, Bachelor in Paradise, Billy Rose's Jumbo, It's a Mad Mad Mad Mad World, Viva Las Vegas, Take the Money and Run, Silent Running and Disney's Charley and the Angel. He had recurring roles as the doctor on "Bonanza", the police chief on "My Favorite Martian" and Ulysses S. Grant on "The Wild Wild West".
Appearances
Edit
He was in a total of 8 TAGS episodes.
You can find his IMDB page: here.
Roy passed away of meningitis in 1980.
Ad blocker interference detected!
Wikia is a free-to-use site that makes money from advertising. We have a modified experience for viewers using ad blockers

Wikia is not accessible if you've made further modifications. Remove the custom ad blocker rule(s) and the page will load as expected.