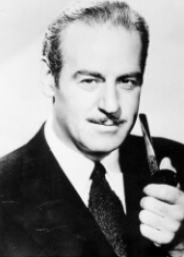 Roy Barcroft born September 7, 1902 from Crab Orchard, Nebraska was an American actor who portrayed Clint Biggers. He died November 28, 1969 of cancer.
Biography
Edit
After serving in World War I, Roy Barcroft spent most of the 1920s and early 1930s moving from job to job. It was in the 1930s, after he moved to California with his wife, that he found his calling while acting in amateur theatrical productions. In 1937 he was appearing in bit parts in various genres, but by 1938 he was in westerns, where he became a well-known (and memorable) "heavy". Roy would alternate among Monogram, Universal, Columbia and other studios. In 1943, however, he signed an exclusive ten-year contract with Republic Pictures and became the convincing, and tireless, menace to all the good people in the West. He also did more than sneer at the likes of Don 'Red' Barry, Bill Elliot, Sunset Carson and Allan Lane. Roy acted in The Fighting Seabees (1944), which starred John Wayne. He was the Purple Martian in The Purple Monster Strikes (1945) and Capt. Mephisto in Manhunt of Mystery Island (1945), and who can forget his Retik, The Moon Menace. from the classic Radar Men from the Moon (1952)? Roy even played the good-natured marshal in Oklahoma! (1955). It was westerns, though, that were his bread and butter, and he knocked out a lot of them over the years. Outlaws of Cherokee Trail (1941), Riders of the Rio Grande (1943) and Sun Valley Cyclone (1946) were but a few of the "B" westerns Roy turned out. Off-screen, he was known as one of the nicest, kindest and most helpful people anyone would want to meet, with a terrific sense of humor. More than once, many a leading hero type such as Barry or Elliot would find that their hairpieces would mysteriously disappear before they were to put them on prior to shooting. When the era of the "B" westerns started to fade out, Roy's volume of work also slowed. He appeared in a handful of films, but his movie career had stalled by the end of 1957. He moved into the small screen with roles in TV westerns and also a recurring role in the Walt Disney production of "The Adventures of Spin and Marty" (1955). In the early 1960s he worked in a couple of movies, but his resurgence began in the mid-'60s when he appeared in low-budget films like Billy the Kid vs. Dracula (1966). Roy would make some better films, such as Texas Across the River (1966) and The Reivers (1969).
Ad blocker interference detected!
Wikia is a free-to-use site that makes money from advertising. We have a modified experience for viewers using ad blockers

Wikia is not accessible if you've made further modifications. Remove the custom ad blocker rule(s) and the page will load as expected.