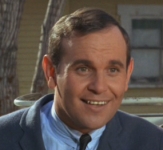 Ronnie Schell (born December 23, 1931) appeared in two episodes of The Andy Griffith Show and played Private/Corporal Gilbert "Duke" Slater on Gomer Pyle U.S.M.C. His other recurring roles on TV series include Harvey Peck on "That Girl", Larry Clarke on "Good Morning World!" and Frank Armsted on "Santa Barbara". He has appeared in the Disney films The Strongest Man in the World, Gus, The Shaggy D.A., The Cat from Outer Space and The Devil and Max Devlin. He was also in the films Love at First Bite, Jetsons: The Movie and Rover Dangerfield.
Appearances
Edit
Ad blocker interference detected!
Wikia is a free-to-use site that makes money from advertising. We have a modified experience for viewers using ad blockers

Wikia is not accessible if you've made further modifications. Remove the custom ad blocker rule(s) and the page will load as expected.