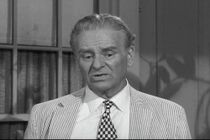 Roger Hanover is an old beau of Aunt Bee. He sends Bee a letter stating that he'll be coming to Mayberry to visit for a few days. Upon his arrival, he begins to annoy both Andy and Opie with his terrible jokes and ridiculous pranks. Toward the end of his visit, Roger hints to Andy that he'll likely marry Aunt Bee unless Andy gives him the money he needs to leave for Florida (pay him off), but Andy calls his bluff and Roger finally leaves, anyway. Roger was portrayed by Wallace Ford.
Appearances
Edit
Season 5-
Ad blocker interference detected!
Wikia is a free-to-use site that makes money from advertising. We have a modified experience for viewers using ad blockers

Wikia is not accessible if you've made further modifications. Remove the custom ad blocker rule(s) and the page will load as expected.