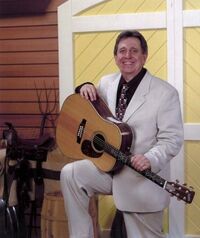 Rodney Dillard (born May 18, 1942), brother of Doug Dillard and a band member of The Dillards, was the guitar-playing brother of the The Darling Boys on The Andy Griffith Show. He co-wrote the songs "There Is a Time", "Dooley" and "Ebo Walker" with Mitch Jayne. He also appeared in the film The Rose, the TV movie Return to Mayberry and the TV reunion special The Andy Griffith Show Reunion: Back to Mayberry.
Image Gallery
Edit
Ad blocker interference detected!
Wikia is a free-to-use site that makes money from advertising. We have a modified experience for viewers using ad blockers

Wikia is not accessible if you've made further modifications. Remove the custom ad blocker rule(s) and the page will load as expected.