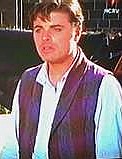 Rodney Bell (born October 21, 1915) was an American character actor. He passed away August 3, 1968 at age 52.
Selected TV and Filmography
Edit
Beverly Hillbillies (1965)
The Donna Reed Show (1964-1965)
Rawhide (1962-1964)
The Andy Griffith Show (1964)
The Virginian (1963)
See full list HERE.
Appearances
Edit
Season 4-
Ad blocker interference detected!
Wikia is a free-to-use site that makes money from advertising. We have a modified experience for viewers using ad blockers

Wikia is not accessible if you've made further modifications. Remove the custom ad blocker rule(s) and the page will load as expected.