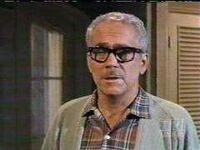 Robert Brubaker (October 9, 1916 - April 15, 2010) appeared in two episodes each of The Andy Griffith Show and Gomer Pyle U.S.M.C. His other TV appearances include recurring roles on "U.S. Marshall", "Days of Our Lives" and two recurring characters on "Gunsmoke", Floyd the bartender and Jim Buck the stagecoach driver. His film appearances include The Court-Martial of Billy Mitchell, Pardners, Written on the Wind, Man of a Thousand Faces, My Man Godfrey, Disney's Moon Pilot, Seconds, Airport and The Sting.
Ad blocker interference detected!
Wikia is a free-to-use site that makes money from advertising. We have a modified experience for viewers using ad blockers

Wikia is not accessible if you've made further modifications. Remove the custom ad blocker rule(s) and the page will load as expected.