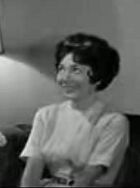 Ramona Ancrum is a young woman in Mayberry. Barney describes her as quiet sweet and demure. She is from the family that owns the Ancrum Charcoal Company. She is the granddaughter of "Rotten Ray Ancrum", who in 1870 came down from the mountains and burnt the town down. She was portrayed by Jackie Joseph.
Ernest T. Bass had a crush on Ramona, and called her "My Darling Romeena." During their courtship at one point, she suggests he gets some schooling in The Education of Ernest T. Bass.
Season 4
Ad blocker interference detected!
Wikia is a free-to-use site that makes money from advertising. We have a modified experience for viewers using ad blockers

Wikia is not accessible if you've made further modifications. Remove the custom ad blocker rule(s) and the page will load as expected.