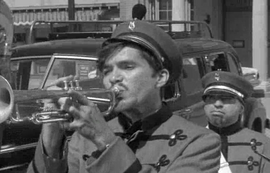 "You don't have any music."
―Andy
"Don't worry about it daddy, I'll read your lips!"
―Phil
Phil Sunkel plays the horn in Freddy Fleet's band. He has a goatee that he hides while playing for Mayor Stoner. He was portrayed by William Eben Stephens.
According to the book "Mayberry 101", Aneta Corsaut (Helen Crump) was responsible for naming the character of "Phil Sunkel". Aneta had a musician friend in New York in real life and thought he would "get a kick out of it" if she could get his name used in the script for this episode. So "Fleet's new horn" was named "Phil Sunkel". After the episode aired, the real Phil Sunkel sued for $20,000 which devastated Aneta. It was only after her repeated phone calls to the real Phil that the show was able to get him to settle out of court for only $5,000.
Appearances
Edit
Season 3-
Image Gallery
Edit
Ad blocker interference detected!
Wikia is a free-to-use site that makes money from advertising. We have a modified experience for viewers using ad blockers

Wikia is not accessible if you've made further modifications. Remove the custom ad blocker rule(s) and the page will load as expected.