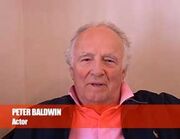 Peter Baldwin (January 11, 1931 - November 19, 2017) directed seven episodes of
The Andy Griffith Show
and fourteen episodes of
Gomer Pyle U.S.M.C.
Other TV series he has directed include "The Dick Van Dyke Show", "The Partridge Family", "Mary Tyler Moore" (one Emmy nomination), "Love American Style", "Sanford and Son", "The Brady Bunch", "The Bob Newhart Show", "Chico and the Man", "C.P.O. Sharkey", "The Love Boat", "Benson", "The Duck Factory", "Too Close for Comfort", "Life with Lucy", "Head of the Class", "Family Ties", "Small Wonder", "ALF", "My Two Dads", "Full House", "Family Matters", "Newhart", "Valerie", "Murphy Brown", "Dream On", "The Wonder Years" (two Emmy nominations, including one win), "Blossom", "NewsRadio", "Cybill", "Sabrina the Teenage Witch" and "Even Stevens". As an actor, he had bit parts in the films
The Turning Point
,
Stalag 17
,
Houdini
,
The Ten Commandments
,
The Tin Star
,
Teacher's Pet
and
I Married a Monster from Outer Space
.