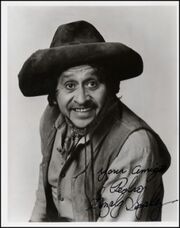 Pedro Gonzales-Gonzales
(May 24, 1925 - February 6, 2006), the brother of actor
Jose Gonzales-Gonzales
, appeared in one episode of
Mayberry R.F.D.
His film appearances include
Wings of the Hawk
,
The High and the Mighty
,
Strange Lady in Town
,
I Died a Thousand Times
,
The Sheepman
,
Rio Bravo
,
The Young Land
,
Hostile Guns
,
Hellfighters
,
The Love God?
(with
Don Knotts
),
Chisum
,
Support Your Local Gunfighter
,
Won Ton Ton the Dog Who Saved Hollywood
, and the Disney films
The Adventures of Bullwhip Griffin
,
The Love Bug
and
The Wonderful Ice Cream Suit
. His voice can also be heard, as various supporting characters, in four 1960's Looney Tunes cartoons starring Daffy Duck and Speedy Gonzales (both voiced by Mel Blanc).
Ad blocker interference detected!
Wikia is a free-to-use site that makes money from advertising. We have a modified experience for viewers using ad blockers

Wikia is not accessible if you've made further modifications. Remove the custom ad blocker rule(s) and the page will load as expected.