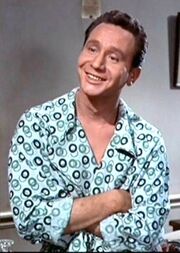 Paul Smith
(born February 5, 1929) appeared in episodes of
The Andy Griffith Show
and
Gomer Pyle U.S.M.C.
He played recurring characters on the TV series "Fibber McGee and Molly", "McHale's Navy", "No Time for Sergeants", "Batman", "Mr. Terrific" and "The Doris Day Show". His film appearances include
All That Heaven Allows
,
There's Always Tomorrow
,
Miracle in the Rain
,
Funny Face
,
The Deadly Mantis
,
Onionhead
(with
Andy Griffith
),
The FBI Story
,
Visit to a Small Planet
,
Bikini Beach
,
The Great Race
, and Disney's
The Horse in the Gray Flannel Suit
and
Now You See Him Now You Don't
.
Ad blocker interference detected!
Wikia is a free-to-use site that makes money from advertising. We have a modified experience for viewers using ad blockers

Wikia is not accessible if you've made further modifications. Remove the custom ad blocker rule(s) and the page will load as expected.