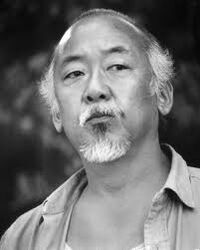 Pat Morita (June 28, 1932 - November 24, 2005) appeared in one episode of Gomer Pyle U.S.M.C. He played recurring roles on the TV series "M*A*S*H", "Sanford and Son", "Mr. T and Tina", "Happy Days" (as Arnold, alongside Ron Howard), "Blansky's Beauties", "Ohara", "The Mystery Files of Shelby Woo", "The Hughleys" and "Baywatch". His film appearances include Thoroughly Modern Millie, The Shakiest Gun in the West (with Don Knotts), Where Does It Hurt?, Cancel My Reservation, When Time Ran Out, Full Moon High, Savannah Smiles, Jimmy the Kid, Slapstick of Another Kind, The Karate Kid (for which he received an Academy Award nomination for Best Supporting Actor), The Karate Kid: Part II, Collision Course, The Karate Kid: Part III, Honeymoon in Vegas, Even Cowgirls Get the Blues, The Next Karate Kid, Spy Hard, Mulan and Inferno. He was honored with a star on the Hollywood Walk of Fame.
Ad blocker interference detected!
Wikia is a free-to-use site that makes money from advertising. We have a modified experience for viewers using ad blockers

Wikia is not accessible if you've made further modifications. Remove the custom ad blocker rule(s) and the page will load as expected.