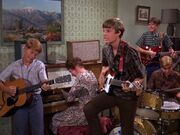 Original Airdate
November 6, 1967
Plot

Opie joins a rock band, and quickly starts staying out past cerfew and getting bad grades. Andy takes a stance to let Opie find out the hard way what trouble will come of it, so as not to seem like he's keeping him from doing what he wants, but Aunt Bee convinces Clara Edwards to intervene as an outsider, hoping the boys will see wisdom in her advice.
Notes

Kay Ann Kemper later used the name Kay Ann Lenz or just Kay Lenz about 5 or 6 years after this episode. She was miscredited as playing the role of Joy, when it should have been listed as Phoebe. In this episode she is the girl who made a fuss over Opie, and knowing a real life musician, at the refreshment table at the boys gig at the birthday party. Most likely, there was a change in the script's characters names and it just never got changed before airing.
Opie: "I think I'll split over there and get some of those cool looking potato chips."
Cast
Crew
Ad blocker interference detected!
Wikia is a free-to-use site that makes money from advertising. We have a modified experience for viewers using ad blockers

Wikia is not accessible if you've made further modifications. Remove the custom ad blocker rule(s) and the page will load as expected.