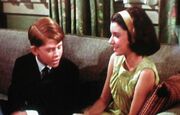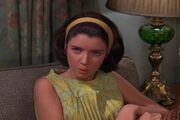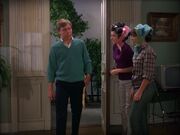 September 11, 1967
Plot
Arnold has a birthday party which is "stag or drag"....meaning dates. Opie tries for a week to ask Mary Alice Carter, but she avoids him to "water her mother's roses" in hopes that Fred Simpson will ask her.
Opie finally asks and Mary Alice agrees to be his date.....after which Fred asks her. She breaks the date with Opie to go with Fred.
Opie is initially crushed and doesn't plan on going to the party....but Andy encourages him to go ahead and act like it didn't even bother him. He goes and winds up with Mary Alice at the end of the evening.
Notes
Suzanne Cupito (Mary Alice) adopted the stage name Morgan Brittany some years later and has been a well known actress, including a role on Dallas in the 1980s.
David A. Bailey plays Fred Simpson but TAGS fans first recall seeing David play Opie's friend Trey Bowden.
Cast
Crew
Ad blocker interference detected!
Wikia is a free-to-use site that makes money from advertising. We have a modified experience for viewers using ad blockers

Wikia is not accessible if you've made further modifications. Remove the custom ad blocker rule(s) and the page will load as expected.