"Sheriff, you gave me the confidence I needed! I found out I'm not inept! I'm ept!"
―Newton Monroe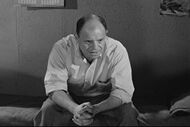 Newton Monroe is a traveling salesman who sells whatever he can get a good deal on out of the trunk of his car. Andy is concerned at first that he's selling stolen goods but he's legitimate, if somewhat unlucky. He was portrayed by Don Rickles.
Appearances
Edit
Season 5-
Ad blocker interference detected!
Wikia is a free-to-use site that makes money from advertising. We have a modified experience for viewers using ad blockers

Wikia is not accessible if you've made further modifications. Remove the custom ad blocker rule(s) and the page will load as expected.