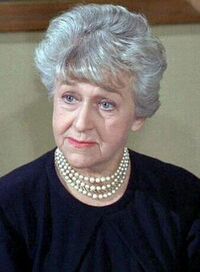 Mrs. Sprague is the overbearing mother of Howard Sprague, played by actress Mabel Albertson in four episodes of The Andy Griffith Show. In her final appearance, she gets married and moves to Mount Pilot, leaving Howard free to become a swinging bachelor.
Appearances
Edit
Ad blocker interference detected!
Wikia is a free-to-use site that makes money from advertising. We have a modified experience for viewers using ad blockers

Wikia is not accessible if you've made further modifications. Remove the custom ad blocker rule(s) and the page will load as expected.