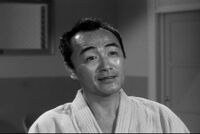 Mr. Izamoto was Barney's Judo instructor. After Andy realizes that Barney is being bullied by Fred Plummer, he has Mr. Izamoto disguise himself in Barney's Salt and Pepper Suit and beat him up. He was portrayed by Yuki Shimoda.
The Andy Griffith Show
Edit
Ad blocker interference detected!
Wikia is a free-to-use site that makes money from advertising. We have a modified experience for viewers using ad blockers

Wikia is not accessible if you've made further modifications. Remove the custom ad blocker rule(s) and the page will load as expected.