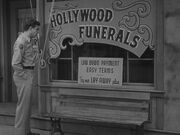 Monroe's Funeral Parlor is run by Orville Monroe. It is located between Floyd's Barbershop and Crowley's Grocery on the same block as the Mayberry Courthouse, but Crowley must have purchased extra space from Monroe because the parlor gets reduced to a single window with no visible entry in later episodes. it is possible but unconfirmed it was reached through a door in Crowley's Grocery, later Foley's Grocery. When business is slow, Orville repairs TVs. One of his employees maybe George, who fixes Helen Crump's TV in Andy and Helen Have Their Day, but this is unconfirmed.
Ad blocker interference detected!
Wikia is a free-to-use site that makes money from advertising. We have a modified experience for viewers using ad blockers

Wikia is not accessible if you've made further modifications. Remove the custom ad blocker rule(s) and the page will load as expected.