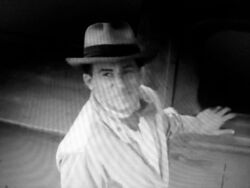 Merle Dean came to Gomer for car work. While Gomer is staying at the Taylor House, he drives to the front and calls for Gomer. After jumping on his truck and waking Andy, Gomer quickly tells Merle, it's his shocks. He was portrayed by Lee Krieger.
Appearances
Edit
Ad blocker interference detected!
Wikia is a free-to-use site that makes money from advertising. We have a modified experience for viewers using ad blockers

Wikia is not accessible if you've made further modifications. Remove the custom ad blocker rule(s) and the page will load as expected.