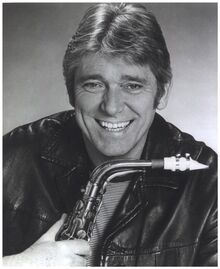 Med Flory (August 27, 1926 - March 12, 2014) appeared in two episodes of Gomer Pyle U.S.M.C. He was a clarinet and saxophone player who also appeared on many television series and in the 1963 film The Nutty Professor. He appeared in The Reluctant Astronaut with Don Knotts.
Appearances
Edit
Ad blocker interference detected!
Wikia is a free-to-use site that makes money from advertising. We have a modified experience for viewers using ad blockers

Wikia is not accessible if you've made further modifications. Remove the custom ad blocker rule(s) and the page will load as expected.