Home
Talk

1
1,488pages on
this wiki
The Andy Griffith Show Wiki... an in-depth encyclopedic guide to the beloved CBS television series. We are a collaborative website about the small-town world of The Andy Griffith Show that first started to grow on September 30, 2008. The wiki format allows anyone to create or edit any article, so we can all work together to create the site. Now, take a stroll into Mayberry.
Featured Character
Goober Pyle—
"I can't do William Holden. He talks like everybody else."
―Goober Pyle
Goober Pyle was first mentioned in Season 3 of The Andy Griffith Show. He was Gomer Pyle's cousin and was portrayed by George Lindsey.
Read More...
Featured Episode
The Mayberry Band—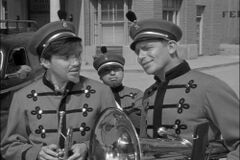 The Mayberry Band is in Floyd's Barbershop entertaining Floyd and Andy, as he gets a hair cut. Jubal walks in wanting a haircut, but Floyd explains he is too busy getting the band ready for a festival in Raleigh. Barney comes in next, wanting to show Andy something. While Andy and Barney are walking to the courthouse they spot Bobby Fleet and his Band with a Beat in town.
Read more...
Featured Prisoner or Criminal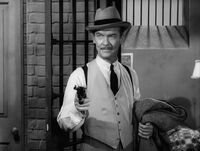 Gentleman Dan Caldwell—
Gentleman Dan Caldwell is one of the most famous and notorious guests the Mayberry Jail has ever housed. It's doesn't take much for Gentleman Dan to not only charm his way into the good graces of an already smitten Barney, but Opie and Aunt Bee also. A master of charm, Dan is treated practically like royalty when he locked up. Andy, however, is none too trusting of Mayberry's guest.
Read More...
Featured Article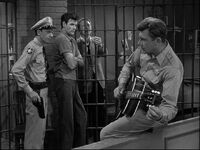 Mayberry Music—
Mayberry Music is a new article here at The Andy Griffith Show Wiki. Our goal is to create an article filled with videos to all the songs and music heard through the series run. Feel free to help us out. Remember a song but don't see the video? Just let us know.
Read More...
Monthly Poll
Who is your favorite and funniest female on TAGS?
50 users voted in our last poll, and the results are in! 44% of you chose Season 3 as your favorite black and white season of TAGS.


Featured Video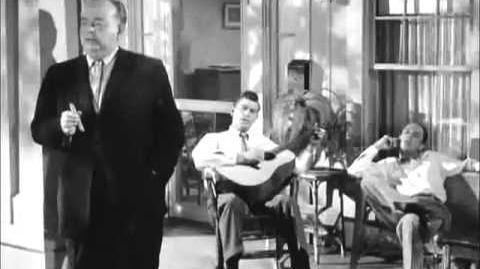 Featured Image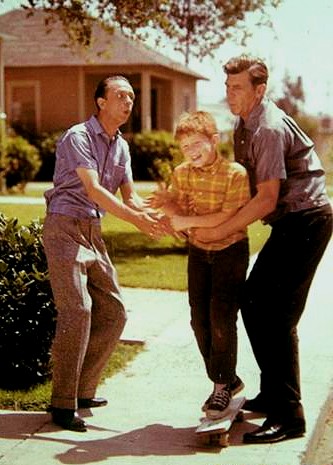 Featured Quote
"Call the Man!" -Andy Taylor

Update/News from TAGS Wiki We are looking for people to help edit. If you would like to get started, we have the Pages needing attention page. If you need help from an admin, please feel free to contact me directly: QueenBuffy

Want to be an Affiliate
Want your own Andy Griffith Show site to be seen? Then become an affiliate. Here is how: CLICK HERE


Mayberry After Midnight
Loading RSS data...
Mayberry Blogs