The Andy Griffith Show Wiki... an in-depth encyclopedic guide to the beloved CBS television series. We are a collaborative website about the small-town world of The Andy Griffith Show that first started to grow on September 30, 2008. The wiki format allows anyone to create or edit any article, so we can all work together to create the site. Now, take a stroll into Mayberry.

Thelma Lou—
Thelma Lou is Barney Fife's girlfriend on The Andy Griffith Show. Thelma Lou's last name and occupation are never revealed, however in one episode she mentions getting back to the office. Her two cousins are Mary Grace Gossage and Karen Moore. She lives in a small, quaint home within Mayberry city limits - making Barney's ice cream deliveries much quicker.
Read More...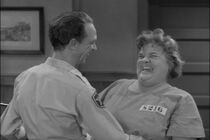 Barney and Floyd are held hostage by a gang of escaped female convicts who have been hiding in O'Malley's cabin outside of town. Andy, who spots Floyd in town buying groceries (with one of the convicts), thinks they have a little party going on until O'Malley arrives back in town on the bus. Andy and O'Malley engineer a clever scheme to capture the women.
Read more...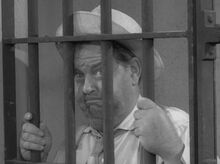 Otis Campbell—
Otis Campbell was the "town drunk" in Mayberry and probably the most well-known prisoner in the courthouse. Otis was played by Hal Smith and made frequent appearances on the show from 1960 to 1967, and stopped appearing in the show towards the end of the series due to concerns by the show's sponsors over the portrayal of excessive drinking. Otis works as a glue dipper in a furniture factory.
Read More...

The Andy Griffith Show Dictionary—
The Andy Griffith Show Dictionary. Ever been curious what certain words or slang mean from The Andy Griffith Show? We've begun to compile a dictionary, listing various words and sayings heard throughout the seasons of the show and their meaning. Feel free to add some you see are missing, or correct ones that are already there.
Read More...
Which is your favorite black & white TAGS season?
115 users voted in our last poll, and the results are in! 48% of you chose Ellie Walker as Andy's favorite girlfriend/love interest.




"Hey Jim one thing about this fella Fleet. He digs you, so you be nice and dig him back!"
-Andy Taylor
We are looking for people to help edit. If you would like to get started, we have the Pages needing attention page. If you need help from an admin, please feel free to contact me directly: QueenBuffy

Want your own Andy Griffith Show site to be seen? Then become an affiliate. Here is how: CLICK HERE


Loading RSS data...
Create blog post
Here I am this rainy weekend visiting the grave of George Lindsey at Oak Hill Cemetery in Jasper, Alabama. I wasn't there very long, but I had to stop by and say "Hey to Goober!"

Read more >
See more >
Ad blocker interference detected!
Wikia is a free-to-use site that makes money from advertising. We have a modified experience for viewers using ad blockers

Wikia is not accessible if you've made further modifications. Remove the custom ad blocker rule(s) and the page will load as expected.